On 27 August 2018, WA Premier Mark McGowan was joined by Murujuga Aboriginal Corporation (MAC) and representatives from the Traditional Custodians of the land in signing a joint Letter of Support, addressed to the Commonwealth Government, to commence the formal World Heritage Listing process.
There are three key or important milestones to address in the process to obtain a World Heritage Listing. These are:
1. Preparation of a "Tentative List Submission"
This is a short, overview document which outlines why Murujuga should be considered for the World Heritage List and under what Selection Criteria Murujuga should be assessed (i.e. Criteria 1 and 3).
2. Preparation of a "Nomination Dossier"
This is a comprehensive document which consists of detailed information that substantiates or supports Murujuga's application for World Heritage Listing. This document will likely be several hundred (maybe even one thousand) pages long and will take at least two to three years to complete.
3. The effective management of World Heritage Listed properties
World Heritage Listing comes with the responsibility to protect, conserve, and manage the "Outstanding Universal Value" of World Heritage Listed places. Murujuga is already ahead on this important point with the publication, in 2016, of the Murujuga Cultural Management Plan.
Word Heritage Nomination Steps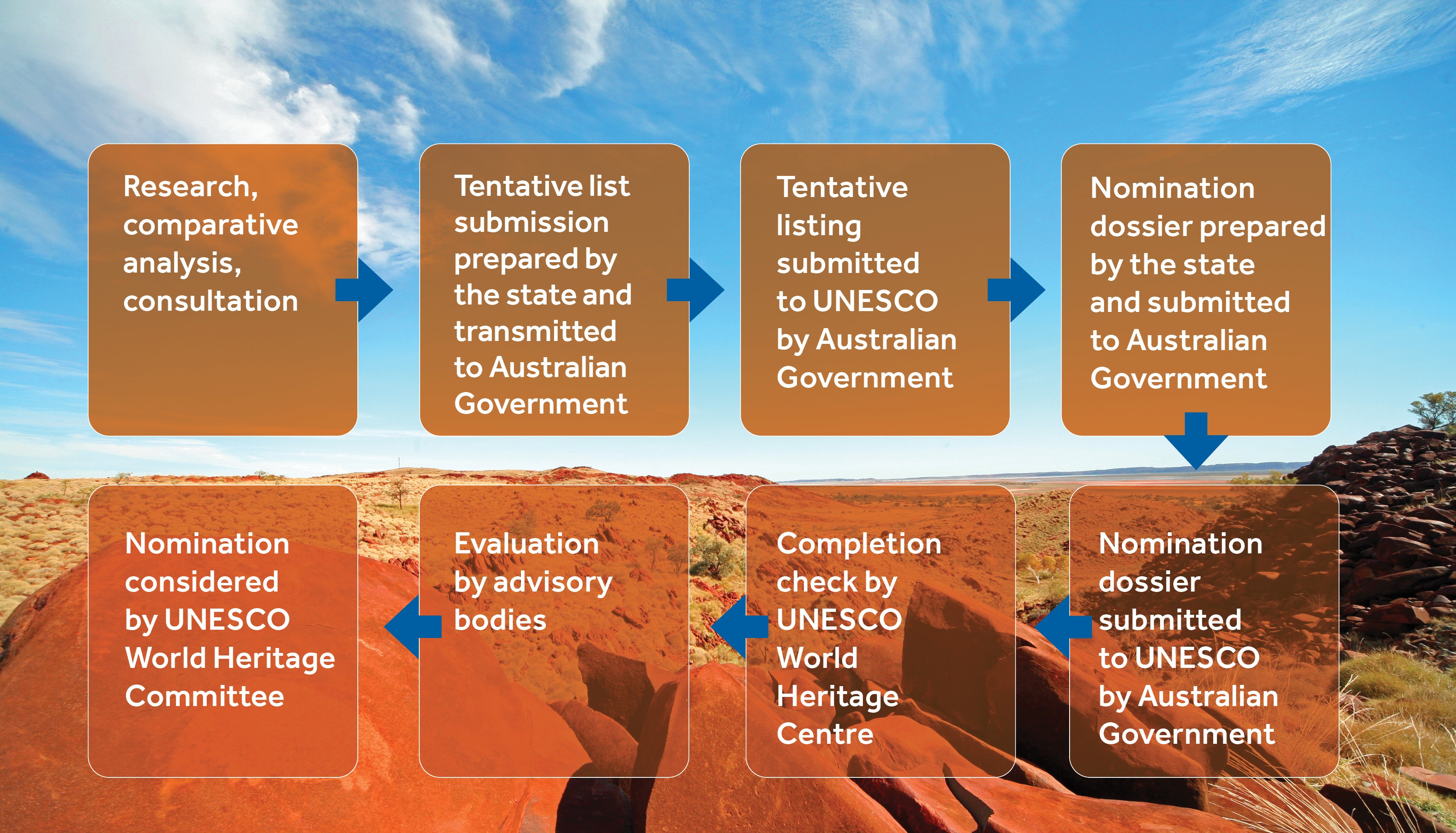 World Heritage Indicative Timing
MAC's Role
MAC is playing a central role in the World Heritage Nomination process by offering leadership and cultural guidance. At MAC, we want to ensure that the meaning of Murujuga to the Aboriginal Custodians of the land is expressed in a culturally appropriate, sensitive, and respectful manner.  The deeply felt "connection to country" of our members, both young and old, and their aspirations for it must be emphasised in MAC's "Nomination Dossier" for World Heritage Listing. In order to assist with this process, MAC appointed an in-house World Heritage Officer.
While MAC is the most representative group of people with cultural authority for Murujuga, it is acknowledged that no single organisation represents all Aboriginal interests or points of view for Murujuga. Those who are not part of MAC are able and encouraged to participate in the World Heritage Nomination process by providing comment and contributing to other appropriate forums.
Further Information
If you require further information about the World Heritage Nomination or Listing Process or if you have a question, comment, or concern about the World Heritage Nomination/Listing of Murujuga, please do not hesitate to contact the Murujuga Aboriginal Corporation on +61 (08) 9144 4112 and ask to speak to the World Heritage Officer.